Group Caricatures & Team Composites
Show your staff, employees or other work groups how important they are!
Group caricatures or team composites consist of 5 or more people
with an identifying background theme or detail.
Samples
The members of the Arkansas SHRM team create a team composite of organizing committee members using their annual trade show theme. Each committee member receives a framed print to commemorate their work together.
Groups can be used on greeting cards for the holidays and birthday cards.
Any variety of teams can benefit.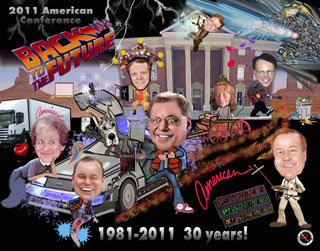 Please read our Disclosures